Well, what do you think of our new Card Blog?? Looks swish doesn't it? Thanks Zoe, you did a marvelous job!
So, why do we have a card blog I hear you ask. Well, that's easy. Cards are our new found passion at Scrapbook City. We still love our scrapbooking, but we are venturing out into the new frontier of cards too, and loving every minute of it. So make sure you stay tuned into this great new blog to see lots of great ideas and get plenty of tips and techniques for creating that perfect card.
To go along with our card blog we have some new team members to introduce. Give a big welcome to Sandra, Rita and Nicole who will be creating lots of wonderful cards to inspire you and every now and then Kerri and I might even add one in! So there is lots on the drawing board.
To launch our new card blog and the new look scrapbook blog, we are going to start off with a great challenge and a fantastic prize!
We are going to kick off with a Kaiser Craft challenge. Kaiser is one of our most popular manufacturers and they are constantly bringing out beautiful papers and extras and they are Australian to boot. So we figured most people would have some Kaiser in their stash! But we are going to give you some restrictions, after all you can't have it too easy! You need to create a card using one of the following collections (or you could mix and match from them all!):
Lush
Up Up and Away
Secret Bird Society
Hippy Girl
You need to use at least 70% Kaiser product, remembering that Kaiser have lots of extras like bling, flowers, ribbon, letters and stamps that can all be included. And to kick off your creativity we have some samples for you.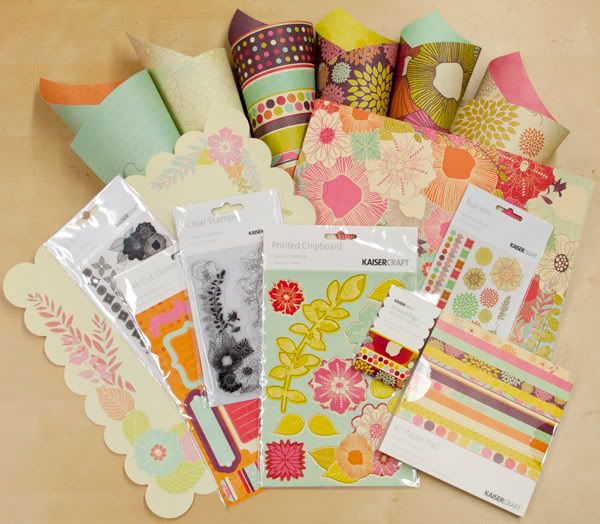 Hippy Girl Prize Pack
Secret Bird Society Prize Pack
To show us your entry we need you to load it onto your own blog and link it to us using the link system. This is really easy. Just add you entry to your blog and then click on the image to find its URL (this will be shown in the address bar at the top of the screen after you have clicked on your image). Copy this address and add this to the URL box that comes up when you click on the link option on our blog for this challenge and fill in the rest of the details and then submit link to finish! Easy!

If you don't have a blog, don't fret, just email us at
info@scrapbookcity.com.au
with a picture of your entry and we will add it to the blog for you.
Remember you have until midnight Tuesday 14th September to get your entries in. We will also put up the next challenge on that day so keep a look out for that too!
Thanks for stopping by and I hope to see lots of great entries soon.